"I Want That For My Patio or Porch!"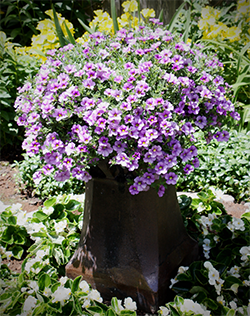 Container planting is one of the hottest trends in outdoor decor and landscaping, and with so many options out there, it's hard to know where to begin. With this guide you can take ordinary pottery, add a combination of lovely annuals, perennials, tropicals and find the best location for your beautiful container. Watch your patio, porch, or outdoor living area turn into a kaleidoscope of splendid color! Northeast Nursery supplies everything you need to make your next container into the best in the neighborhood. For great results follow our step by step instruction guide for planting your container:
Step 1: Selecting Pottery
There is a large selection of pottery available, and we can help you find just the right piece for your container planting.
Glazed Ceramics
Cast Stone
Rotational Molded Poly
Cast Iron Planters
Fiber Reinforced Concrete
Each type of pottery has its own benefits and unique features. Pottery can be as large or small as you want because it is all about your vision. Ask at the garden center what's right for you.
Step 2: Choosing your Location
Choosing your location in your yard is important because you need the right plants for the right locations. The following are the criteria to help you create your masterpiece:
Full Sun, Part Sun, or Shade?
Full Sun is considered 6 or more hours of sunlight
Part Sun is considered 4 to 6 hours of sunlight
Shade is considered less than 4 hours of sunlight
Dry or Moist?
Locations that are beaten on by the sun often dry out quicker than moist locations
Moist areas often hold water longer and the soil will often seem damp to touch
What plants like dry or moist soils?

Plants like Sedum or Lantana like hot areas with drier soil
Plants like Hosta or Begonias like moist areas and soil
Is your Pottery Made of Clay?
Clay absorbs moisture more than any other pottery type
Plastic pottery can heat up during the summer months
Step 3: Selecting your Flowers
When selecting your plants to add that spectacular color to your container, create with the best selection of attractive annuals, perennials, and tropicals by understanding each group of plants:
Annuals

Plants that live for one growing season

Perennials

Plants that come back every year*

A wide variety of colors
Blooms for multiple seasons
Available for sunny or shady conditions
Easy Care - No dividing or major pruning necessary

A wide variety of colors
Blooms for short periods of time
Available for sunny or shady conditions
May need to be transplanted, divided or pruned extensively
* Some perennials are shorter-lived and may only survive a few years. Biennials are sometimes grouped in both categories - these plants may take 2 years to bloom, and don't blooms as well after the second year.
Tropicals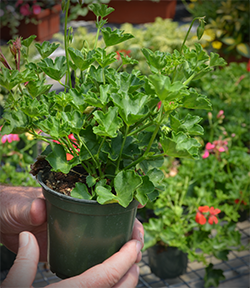 Plants that Thrive in Hot, Humid Climates
Canna Lily, Banana Plant, Jasmine, Bougainvillea, Tropical Hibiscus, Elephant Ears, Mandevilla, Dracaena, etc.
Use for Focal Points
Many tropical plants can be moved indoors once weather starts to cool
If you select different types of plants be sure to consider Leaf Texture and how you plan to Layer the plants in the container. Look for textures and shapes that will complement each other!
Leaf Texture

Layering Plants

Many plants offer different textures so study the plant to determine what it offers and think about how the textures combine in a planting

Large or Small Leaves

Large like Geraniums or Hosta or Canna Lily
Small like Bacopa or Groundcover Sedum

Sprawling vs Upright Leaves

Sprawling like Sweet Potato Vine
Upright like Pennisetum

Filling a container with too many spiky or fine-textured leaves can make a container seem busy, but filling a container with plants that have shorter, fatter leaves can leave it a little boring

Layering is the arrangement of plants from the edge to the center in the container while planting . As a rule of thumb, think of a planter in terms of three layers: the outer layer, middle layer, and focal layer (also referred to as the Spiller, Filler, and Thriller):

Outer Layer (the Spiller) is often for drooping or vining plants

Middle Layer (the Filler) is often for plants that are not as shorter, but fill-in the middle of the container

The Focal Point is made for a larger or dramatic plant. It is often found at the center of a container and is usually taller than the middle layer
Step 4: Installation
Installation is a very simple task, but you must consider the following:
Select a good-quality potting soil - never use garden soil in your containers!
Organize your selected plant material by layers
Fill your container with potting soil - try to avoid adding fillers - it's best to fill a container with potting soil!
Use Pot Toes (also reffered to as pot lifters) to help with air circulation
Step 5: Enjoy and Maintain your Creation
Your creative art is complete and now you can enjoy your container for months to come, but to get the most out of our container garden, don't forget these important maintenance tips:
Fertilizing:
Remember to fertilize regularly to help promote healthy plant growth and blooms
Look for fertilizers designed for container plantings or the plants you select
Always follow the label directions on mixing and applying fertilizer
Pruning & Clean-up:
Dead-head flowers at the end of each flower cycle as the flowers fade away to promote abundant flowers throughout the growing season
Simply pinch the flowers off
Pinch just at the base of the flower
Dispose of the flowers in a container or barrel
Weathering Pots For Winter
Some pots, like terra-cotta for instance, will break if left unprotected in freezing temperatures. Harsh weather can also damage perennial plants left in containers. Protect against the winter temperatures by:
Wrapping pottery in burlap or plastic
Use mulch or use straw to insulate
Use Large Containers to protect plants from freezing/thawing
Keep water/snow away from concrete or like pottery to prevent cracking
You can overwinter containers in garages, by the foundation of your house, or in a covered location
Tip: Containers Can be Used for Winter Decorations as Well!
Winter decorations can be added to your containers after the growing season is over. You can simply use ribbon, lights, ornaments, and other Holiday decorations to make the holiday season even better!
Spiral Junipers can be used as outdoor decorations by adding lights, and ribbon to accent your holiday spirit!
Boxwoods and other evergreens can also be used
Add cut green goods like pine and balsam and other garlands
Add attractive berries and branches:
Red-twig Dogwood branches
Holly or Winterberry adds great berry interest
Source: Northeast Nursery Horticulture Staff