Green Firewood
Green Firewood
$USD
$295.00USD
295.00
0.00
295.00
Product Description
Green Firewood
Northeast Nursery stocks the freshest, unseasoned Green Firewood in New England that is quite the bang for your buck. Since this wood needs to be seasoned before it is burned, we allow you to get this firewood at an amazing price, while being able to guarantee that it will be seasoned exactly to your liking.
Green firewood contains high moisture content, so we recommend aging the 16 In. 18 In. split firewood for approximately 9 months in order for it to dry out enough to be burned efficiently. Here in New England we count on our fires to keep us warm and cozy during the wildly unpredictable fall and winter months. Get your firewood today and start preparing!
We now offer the convenience of online ordering! If you'd prefer to speak with someone, please call 978-535-6550.
Looking for delivery rates? View them, Click here.
Guidelines for Green Firewood:
Cut wood to the right length for your stove/fireplace/fire pit.

Split to the right size, for wood stoves it's about 6 inches.

Stack and expose in the sun and wind, to evaporate the moisture and whisk it away.

Season for a season, (about 6 months) at least!

Don't cover it up, since that will retain the moisture and not properly dry the wood.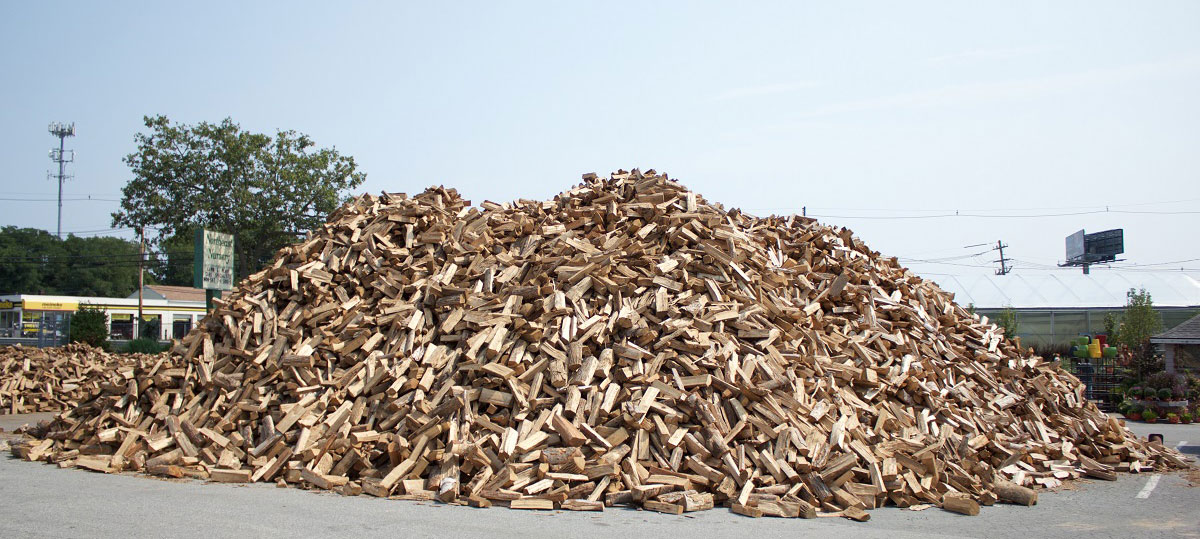 Tips for Properly Seasoning Firewood:
When wood is properly cut and stacked right away, mold has less opportunity to establish itself.

Throwing unseasoned firewood into a pile allows mold to spread throughout the logs, mold that you unwittingly release into your home's environment when you bring the firewood inside throughout the heating season.

Use a moisture meter while seasoning to ensure the wood's moisture content is less than 20 percent.

Do some radial checking by looking for cracks and checks in the end grains.

Wood fades and darkens as it seasons, changing from white or cream to yellow or gray, so it's safe to say a stack of bright, freshly colored wood is far from seasoned.

Split a piece and sniff; if the exposed, fresh-cut surface has a pleasant, sappy aroma or if it feels damp and cool, it's too wet to burn.

As wood dries, the bark slowly begins to separate from the wood and eventually falls away. If the bark is still attached to the wood, peel it back with a sharp knife and check the cambium. If it is green, so is the wood, so there should be more wood without bark.

Bang two pieces of wood together. Dry wood sounds hollow while wet wood sounds dull.

Seasoned wood weighs much less than unseasoned.

Trial by fire! If in doubt, burn some. Dry firewood ignites and burns easily while wet wood is tough to light and hisses in the fire.
Exclusive Tips from MotherEarthNews.com:
The protective bark on a log helps prevent the interior moisture from evaporating, so firewood begins to dry significantly only after it is cut and split.

By splitting the wood into smaller pieces, you create a greater surface area and the greater the total surface area, the lower the overall density, which means the wood dries and seasons at a faster rate.

Trees with a dense wood structure, such as oak and elm, season much more slowly than do ash and birch.

Diffuse porous species, such as maple, birch and poplar, season more quickly than do ring porous species, such as oak and ash.

Conifers have an entirely different cell structure than deciduous trees and take longer to dry, so they are best split into small pieces.

Trees felled in spring when the sap is ›up› also have a higher moisture content.

Finally, if you live in a damp maritime climate, seasoning times may be longer.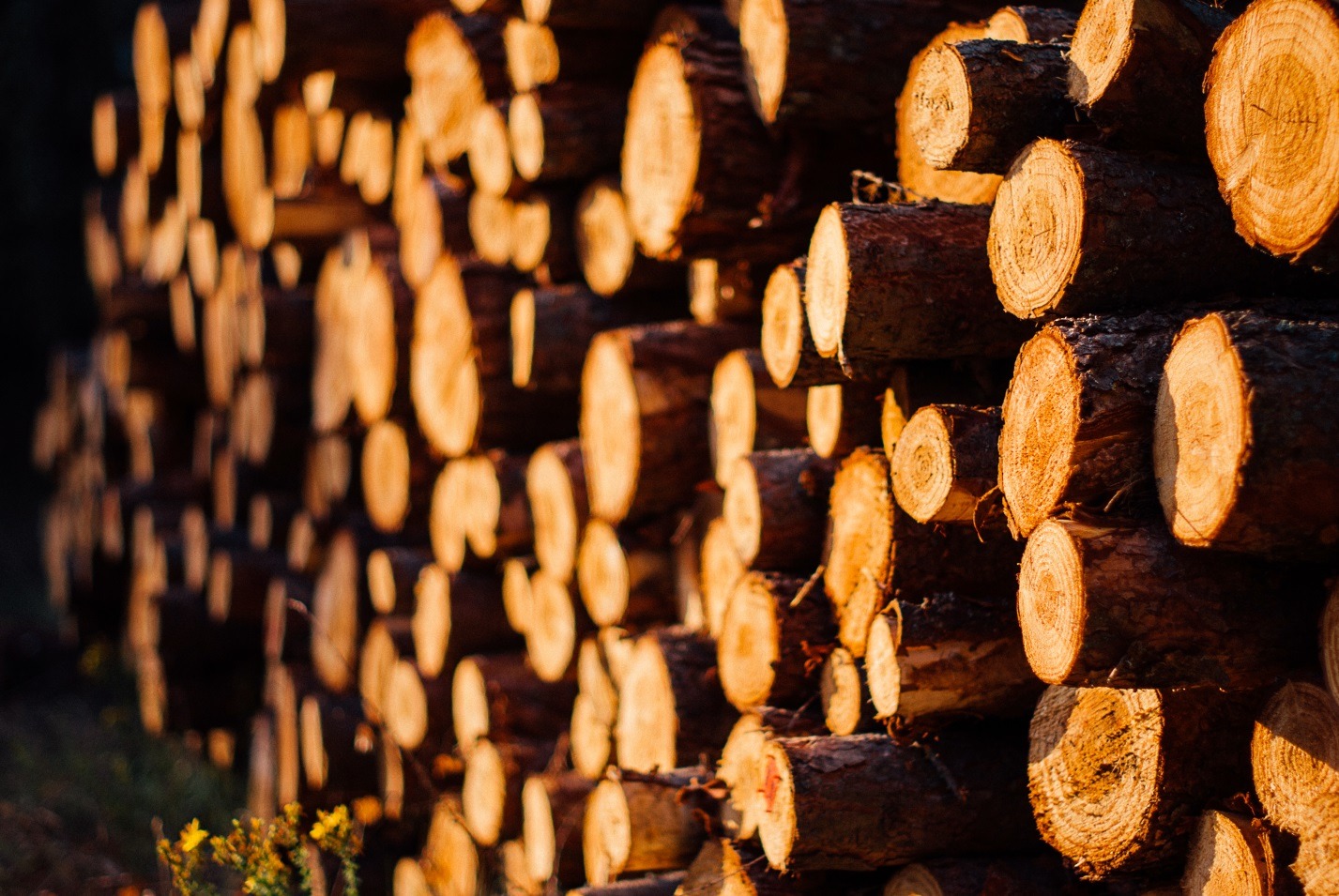 Storing Your Firewood:
As a renowned firewood supplier, Northeast Nursery suggests you lift the wood stack slightly up off the ground. We know New England weather is volatile, so pile it onto a pallet if possible. This will keep the moisture from gathering at the bottom of the stack.
Then place the stack in a sunny location. Do not cover your stack of wood while it's still green or wet. But after it has been seasoned, you might want to place a canvas tarp or plastic sheeting over the top of the stack and draped along the sides to keep off the rain and snow. However, keep the ends of the stack uncovered to allow air to circulate and moisture to escape. This will prevent mold from forming.
» Need a place to store your firewood? Check out your options, HERE! «
Available in full or half cords, Northeast Nursery is the preferred Green firewood supplier.
Firewood Amount Breakdown:
4 cubic feet = "party size"
21 cubic feet = about 1/6 of a cord (a little under a yard)
1/4 cord, 1/2 cord and full cord also available
To place an order and/or arrange for delivery please call 978-535-6550. Looking for delivery rates? View them, Click here.
Northeast Nursery Garden Center
234 Newbury Street
Peabody, MA 01960
Telephone: 978-535-6550
Hours: Mon-Sat 7-6, Sun 8-5

Northeast Nursery Contractor Center
8 Dearborn Road
Peabody, MA 01960
Telephone: 978-854-4520
Hours: Mon-Sat 7-5, Sun 8-4

Northeast Turf & Irrigation
15 Tinker Ave
North Londonderry, NH 03053
Telephone: 603-518-5551
Hours: Mon-Fri 7am-5pm, Sat 7:30am-11:30am
Sunday Closed
Northeast Turf & Irrigation
48 Upper County Rd
Dennis Port, MA 02639
Telephone: 508-694-5135
Fax: 508-694-6820
Hours: Mon-Fri 7:00am-4pm
Saturday & Sunday closed